The Cherry Blossom Festival display and a bunch of fresh products!
We received so many gorgeous new products this past couple weeks, including new metal dice, new resin dice, a big pallet of Haba with several new games, some new chess books, and some important new titles. In addition to all these amazing things, our window display for the impending Cherry Blossom Festival is just about finished. Feel free to stop by and take a picture with our blossoming window, tagging us and using the hashtag #LabyrinthInBloom when you do.

We received a whole lot of new metal and resin dice from Hymgho, and they are absolutely gorgeous. We even received a couple metal d100s that are like mini cannonballs. Check them out on our webstore.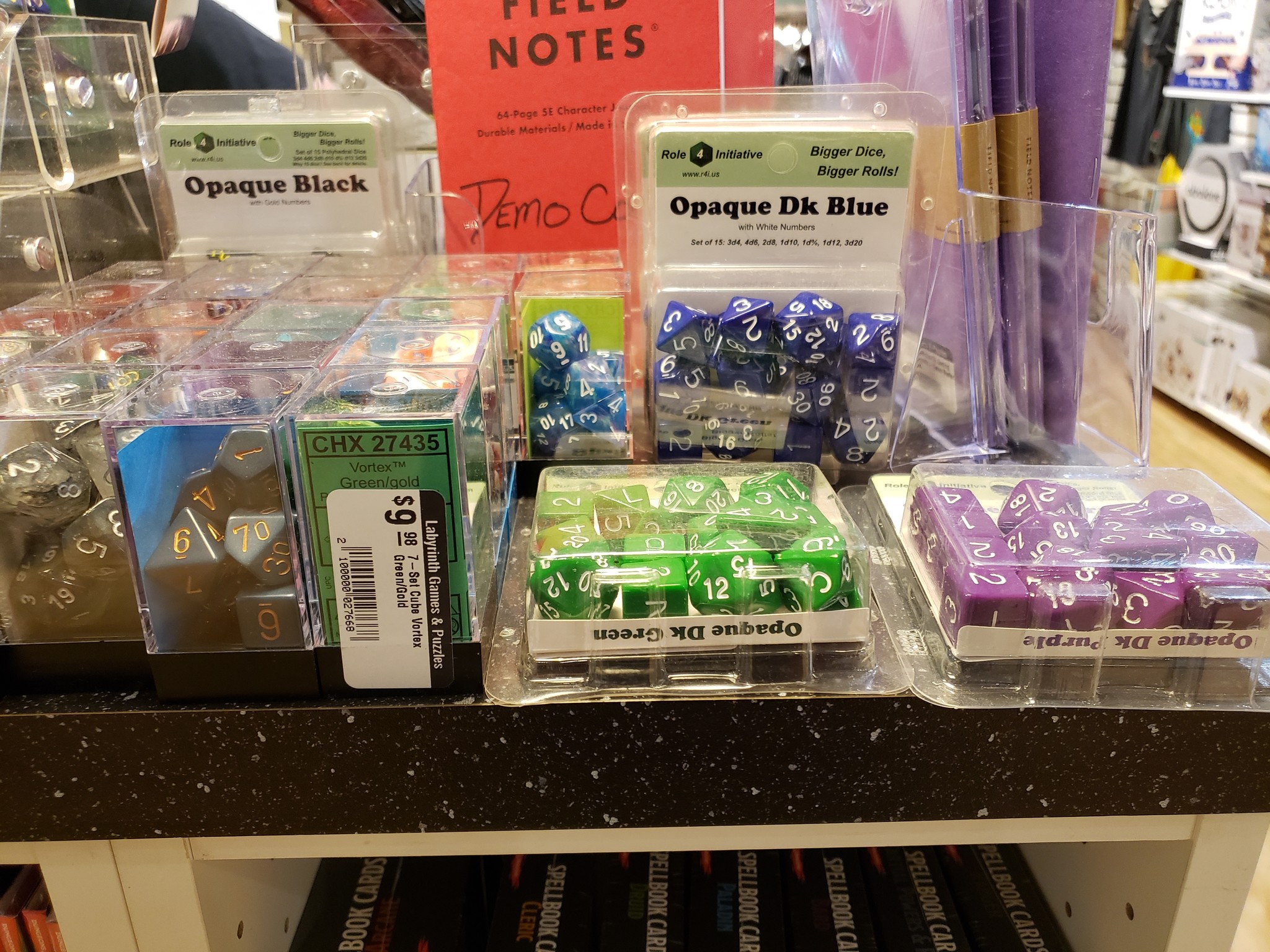 We received several 15 piece dice sets from Role 4 Initiative that contain everything you'll need for a session of D&D, so be sure to look over them on our store site.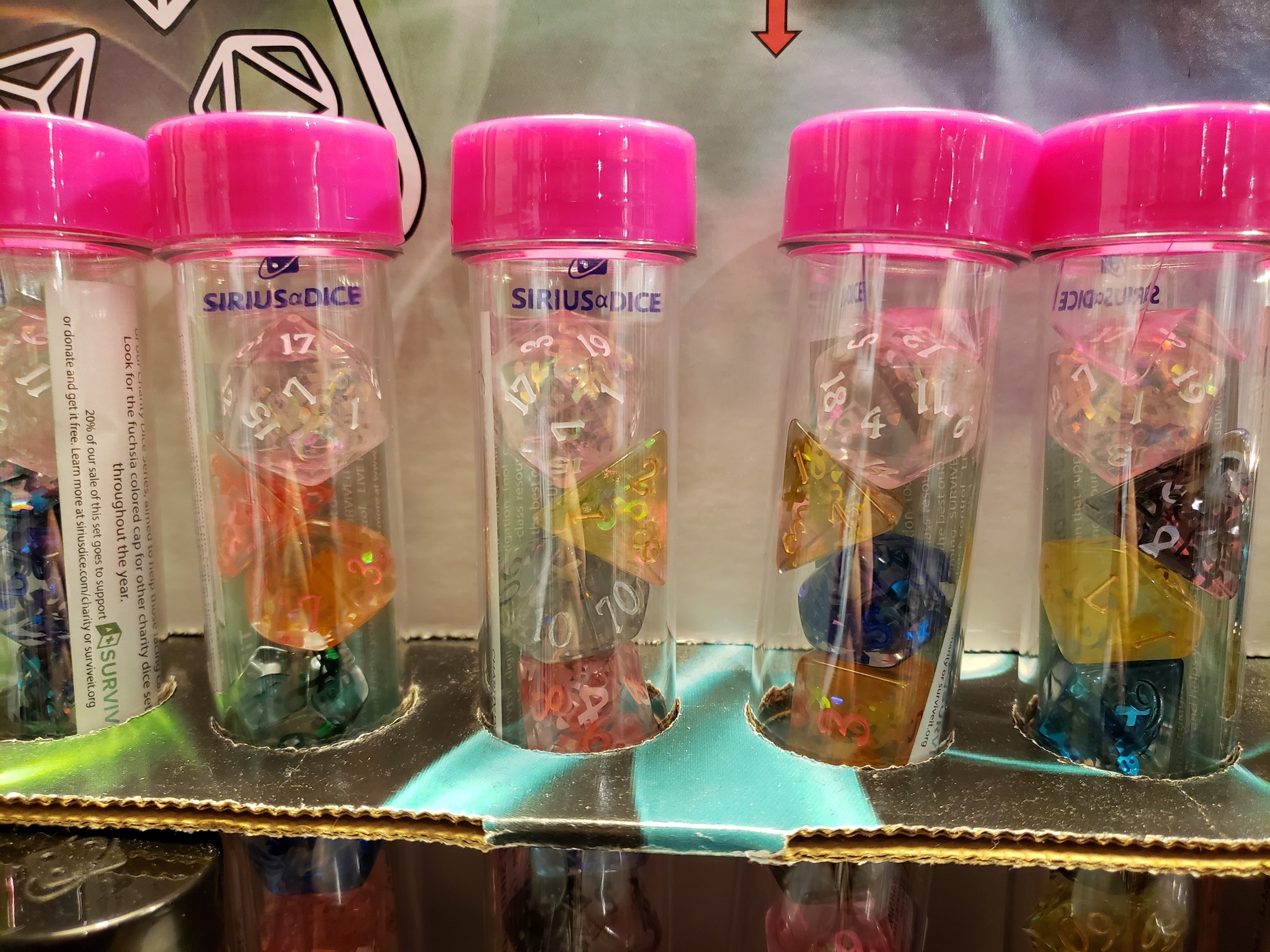 This lovely set from Sirius Dice is multicolored to represent awareness for the different types of cancer afflicting patients. Each of the dice have tiny ribbons inside their resin forms to further elevate their message of unity in the fight against cancer.

Rhino Hero Super Battle is a super fun game in which Rhino Hero and all of his rival super heroes battle it out. The wobbly stacked skyscraper is bigger than ever before and players will have to contend with three extra super heroes moving about and causing tremors in their construction.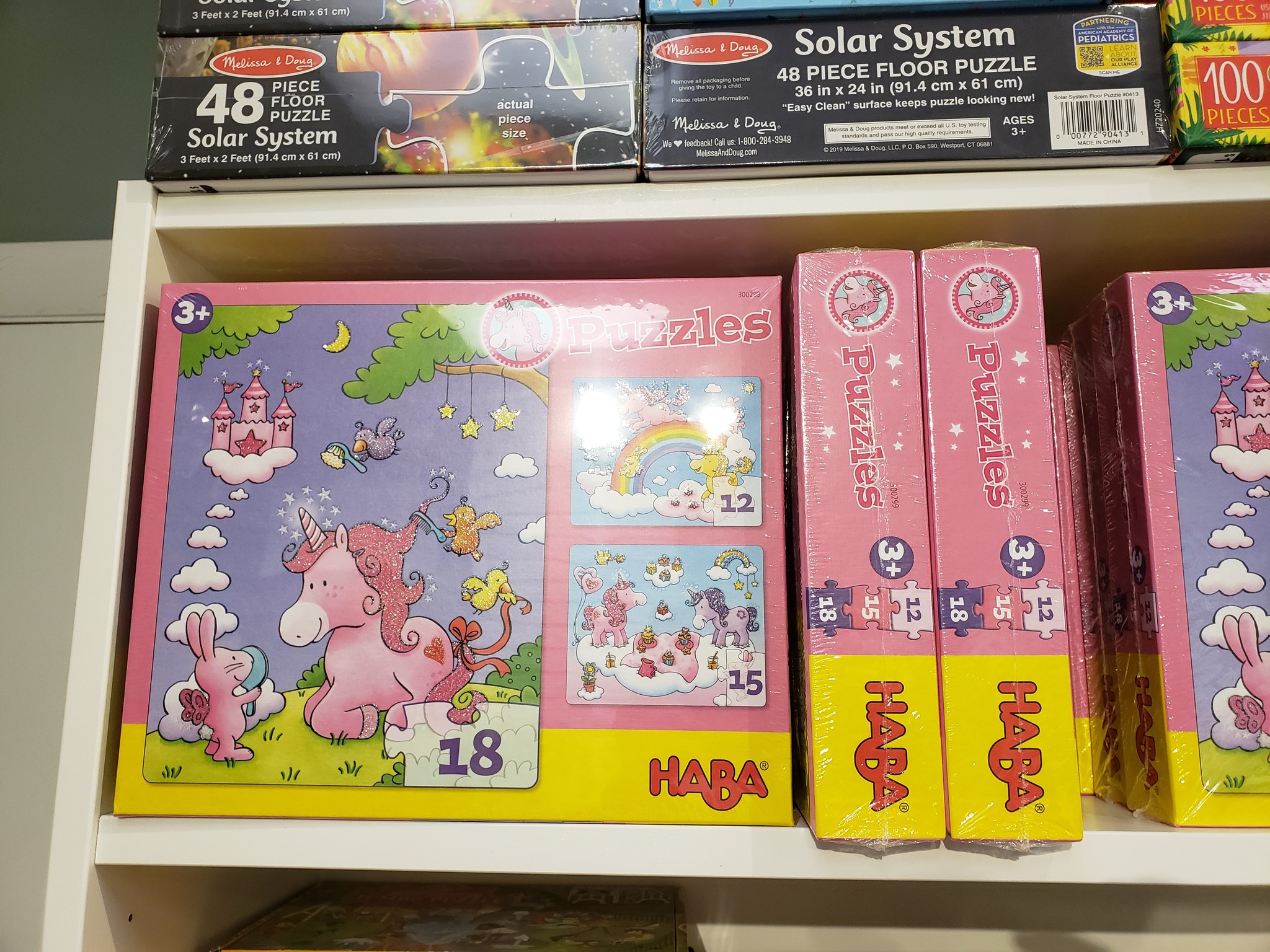 This adorable puzzle set is based on the art of Unicorn Glitterluck, a wonderful set of kids' games, and this puzzle set contains a 12 piece, 15 piece, and 18 piece puzzle all in one box.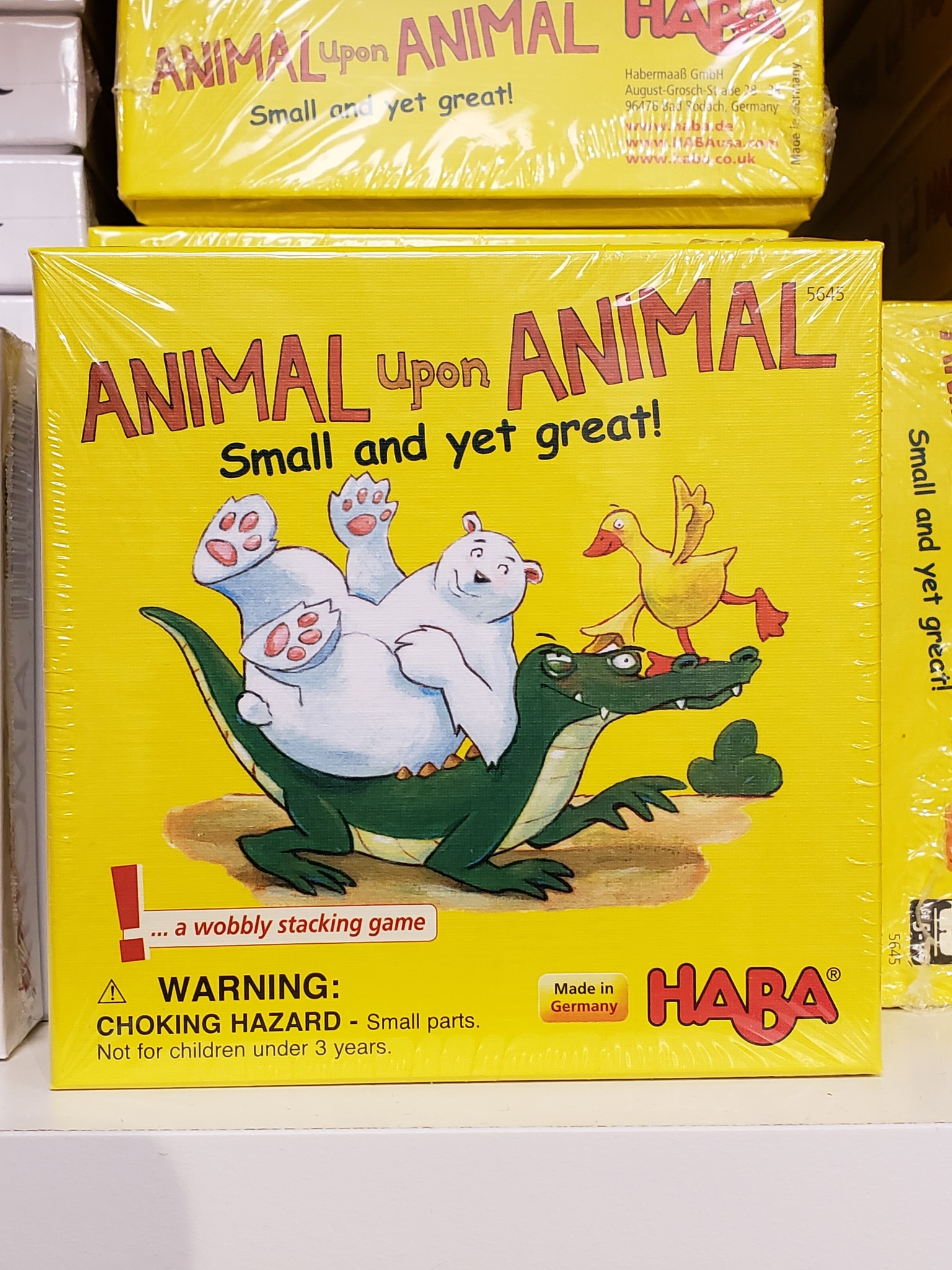 This tiny version of Animal Upon Animal will test your fine motor skills as you go head to head trying to stack animals the best. The roll of the die determines how many animals are to be stacked, as well as who will be stacking them and where, while the adorable animeeples are deceptively friendly looking.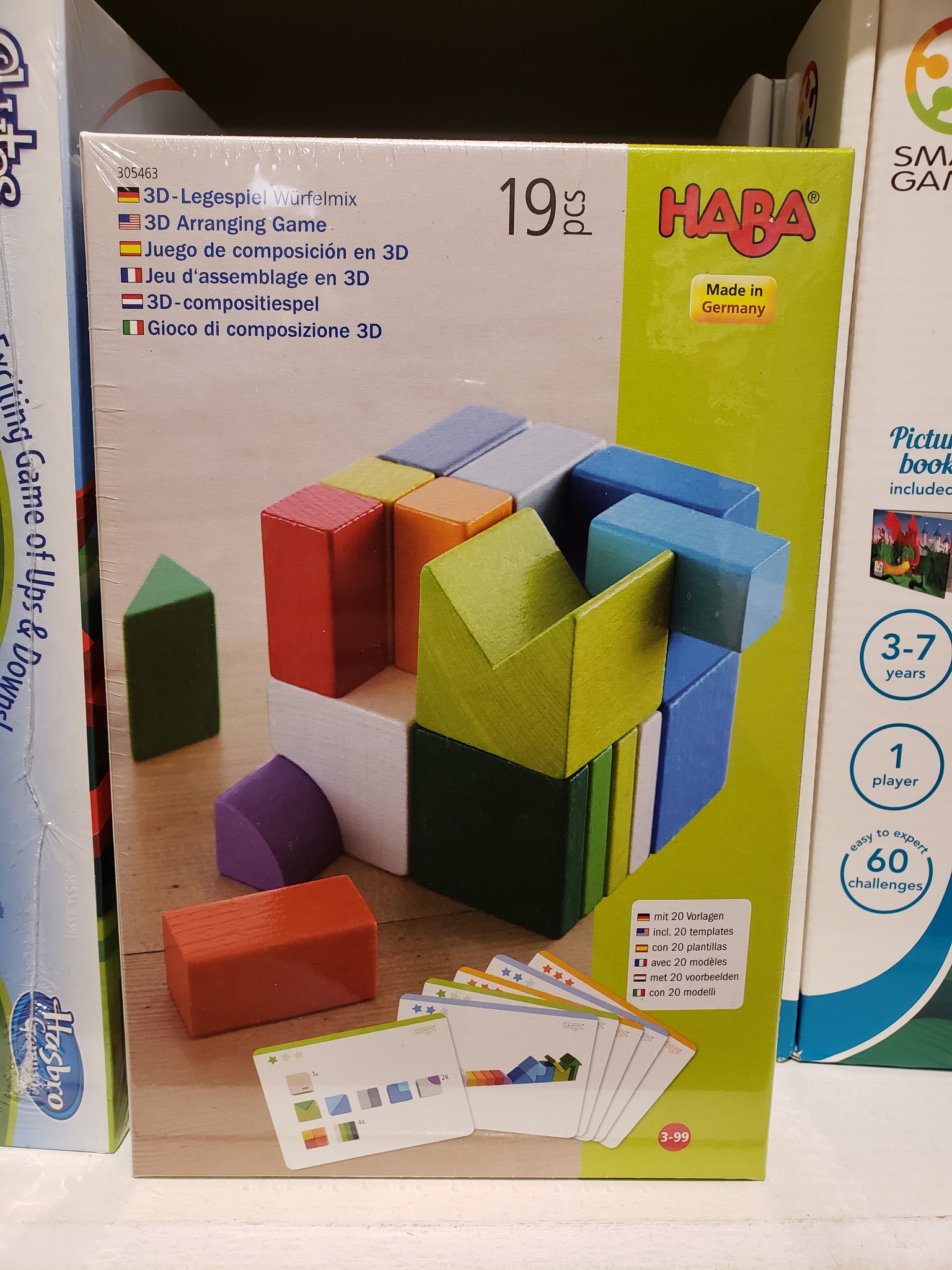 This is a colorful 3D arranging game that comes with challenge cards as well as sturdily crafted wooden blocks.

This lovely set of wooden triangles and board is a fantastic way for young children to express creativity by making whatever patterns they wish to or it's a great chance for them to pratice memory and visual relations with the premade pattern cards included in the set.

This is an adorable addition to the My Very First Game series in which players must help Tiptop to put all of his toys away in the correct spot on his toy shelf because it's dinner time. Young players will not only learn how to clean up; they'll also practice fine motor skills, spatial relations, and speech.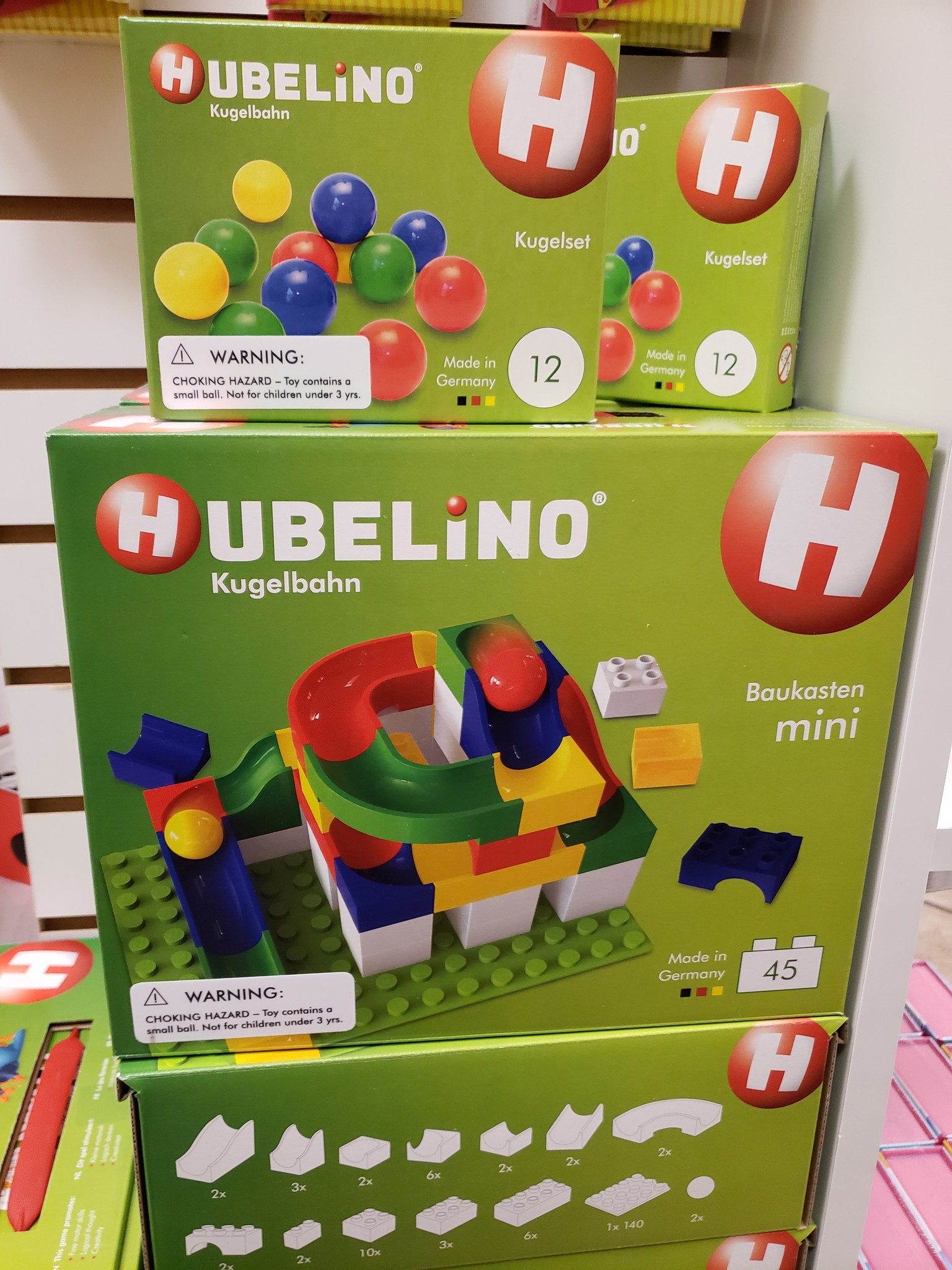 "The Mini Building Box is Hubelino's smallest marble run kit. The brick selection is optimized for creating compact marble runs. The set is an intuitive introduction to the Hubelino system containing everything you need to get started: a base plate, building blocks, marbles and a booklet with sample tracks and instructions.The set comes in a solid cardboard carrying case with partitions for storing your bricks and carrying them to play everywhere you go. Suitable for ages 4+. Especially intriguing for master builders ages 8-12 years." (Haba, USA) The marble 12 pack comes with 12 wonderfully colorful marbles for the Hubelino marble run.

This is a fun, fine-motor control toy. It's a great way to keep kids occupied in the car as it has a plastic cover for the pieces and the magnetic wand is attached by a string. Using the wand, children guide metal balls to the proper garage while avoiding road blocks.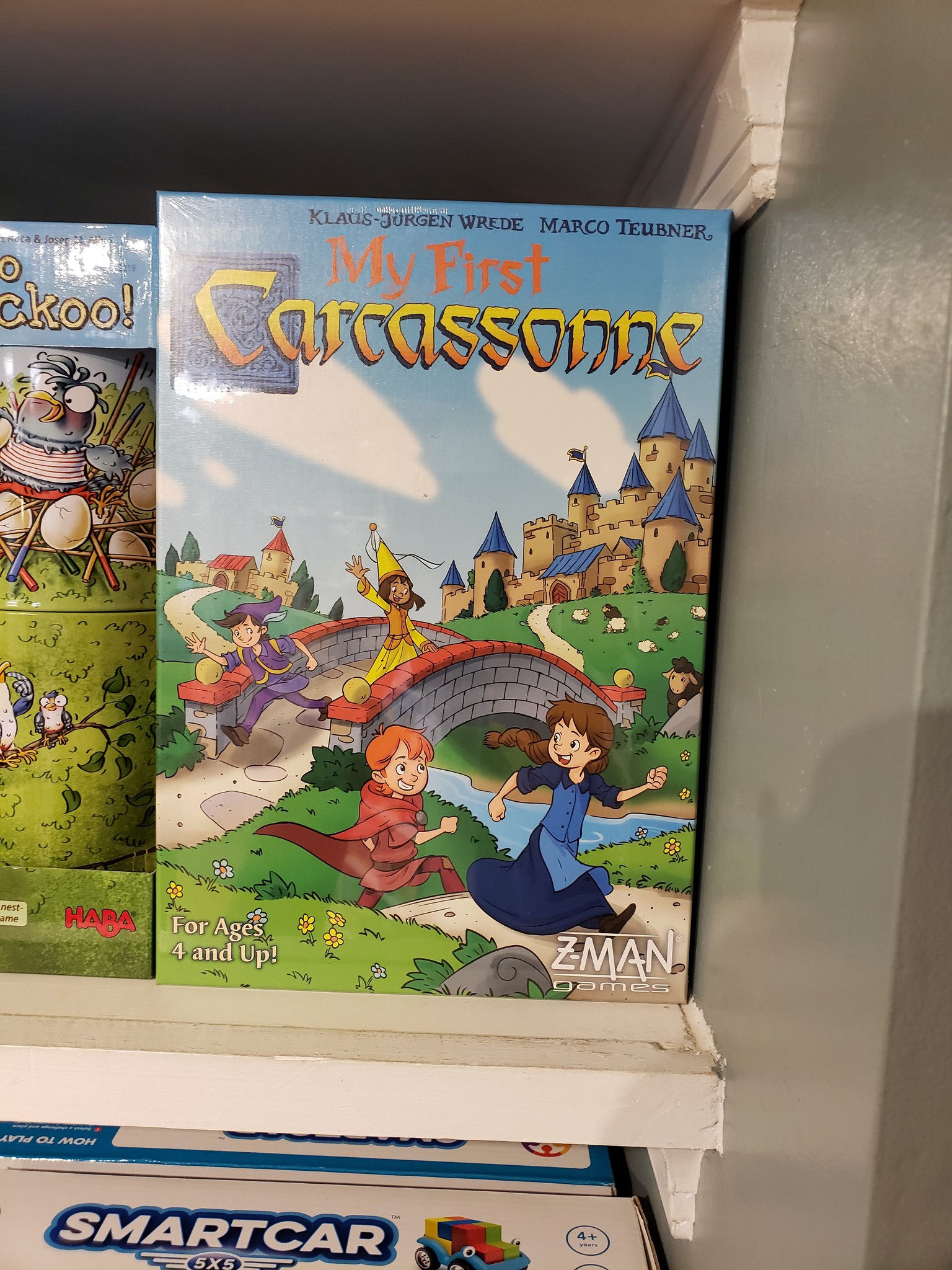 My First Carcassone is a simplified version of the original Carcassone that limits the number of options available when laying tiles in order to make the game accessible for younger ages. It's a great first tile-laying game perfect for introducing your kids to gaming.

In this game for kids 2+ , players will give bones to all the good puppies and learn a lot about how to play games. This is a great game for getting the kids to get out the wiggles while enjoying the really cute theme.

Help the bunnies find their tickets and seats before the magic show begins! Hoppin' to the Show is a cute, cooperative game for kids 4 and up.

This is a fun, story-telling game in which you must all work together to reach the happiest ending before you run out of ink with which to write your collective story. The game also contains an element of chance in it, as at each juncture of the story the current story teller has three possible next plot points. The story teller whose turn it is must place one coin on each possible plot point card face down. One coin has a book on it, one a single ink drop, and one has two ink drops. The story teller must try to guess which plot point the other players are going to vote for and hope that they don't end up voting for one of the cards with an ink drop coin, otherwise that much ink is lost in the process.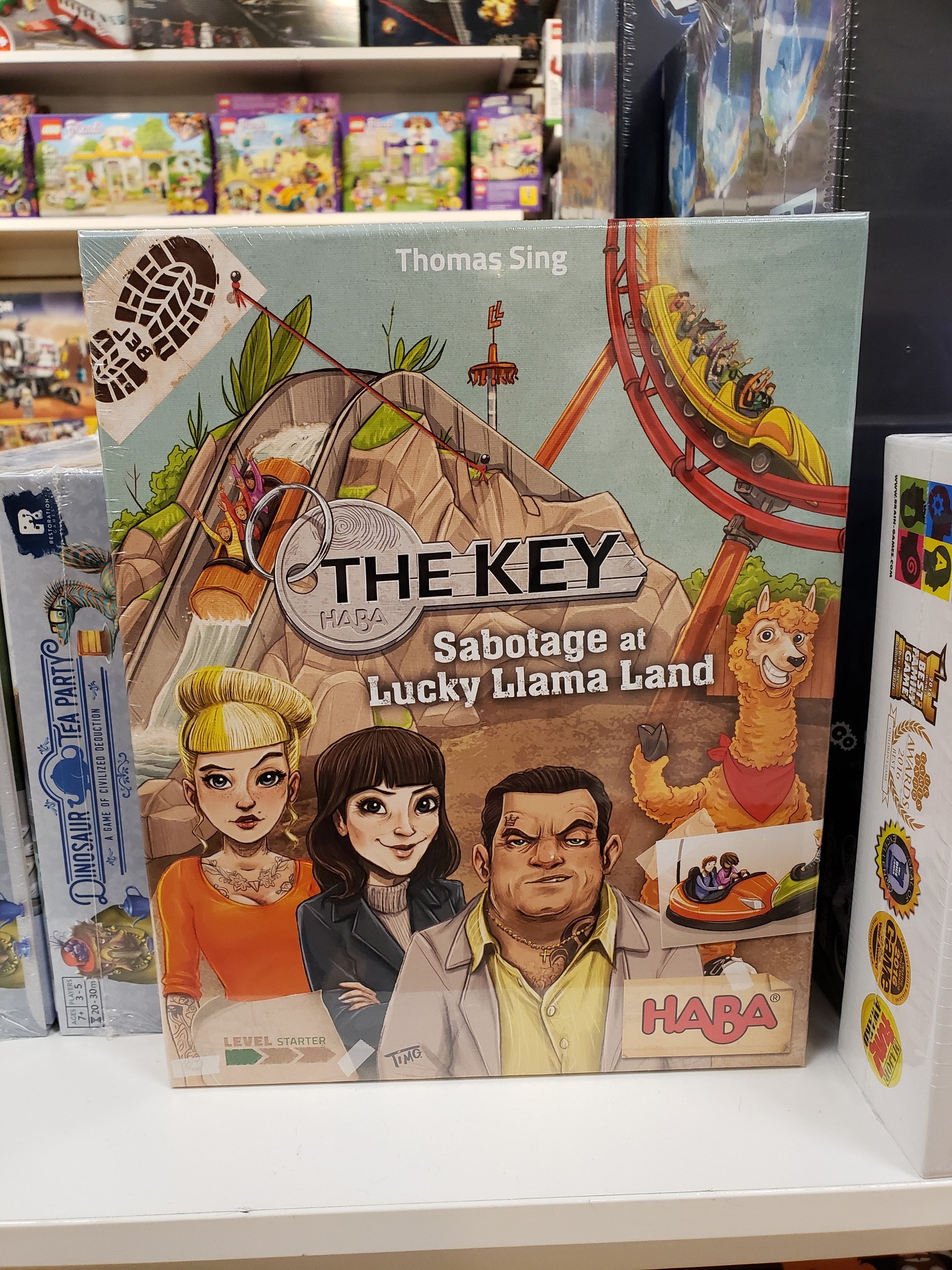 "A series of sabotages has shocked Lucky Llama Land! Multiple attractions at the theme park were tampered with. Players start their investigations and combine clues about the days of the crimes, perpetrators, tools, and crime scenes. They need to generate the right number code and use the key to put the saboteurs behind bars. In the end, it's not necessarily the fastest investigator who wins the game, but the most efficient one." (Haba, USA)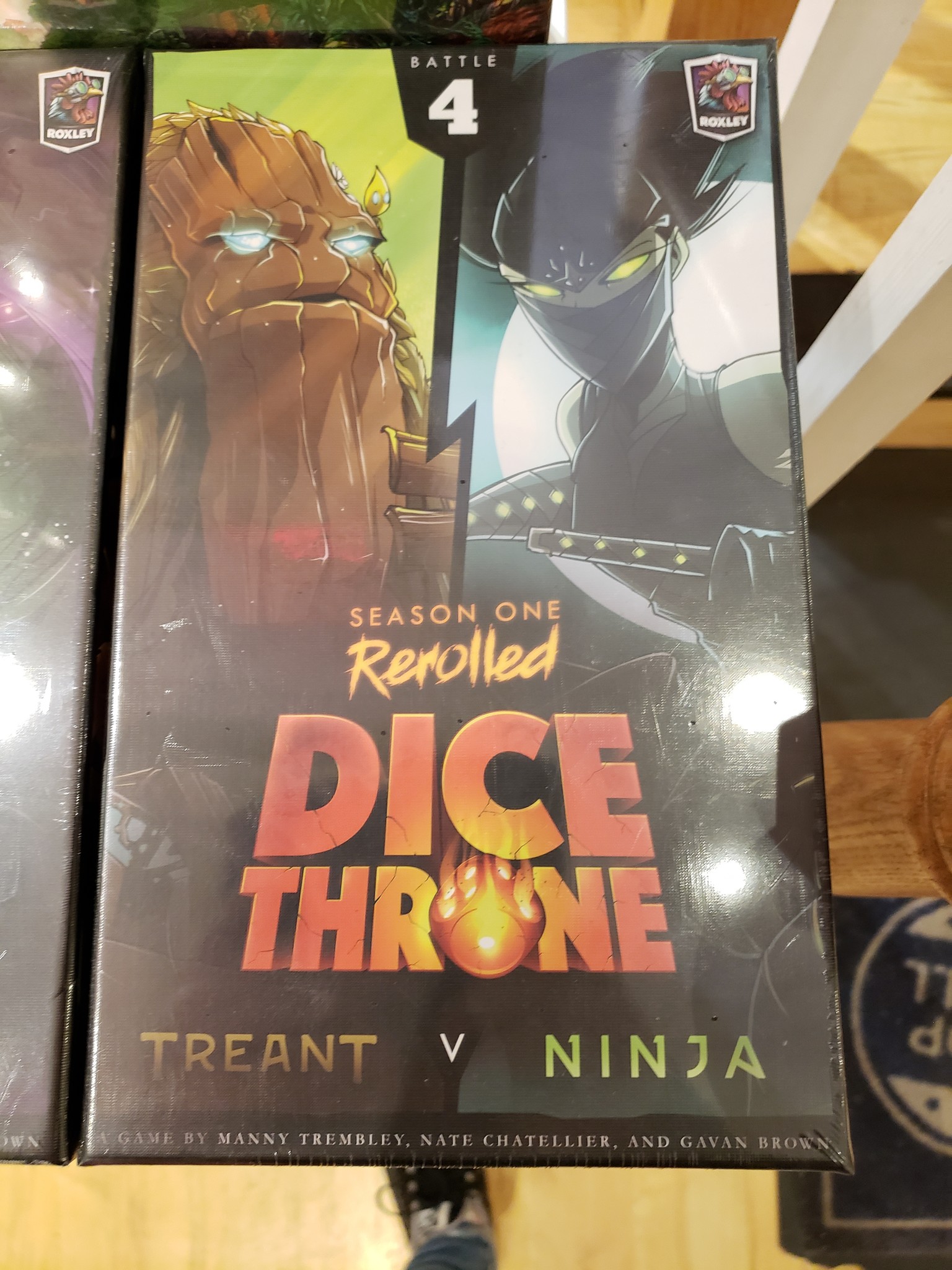 We recently received all the other Dice Throne Season 1 Rerolled packs recently, and now Treant vs. Ninja is in stock, so be sure to pick it up.

The latest in the Disney's Villainous series is here and contains three new villains to play as, including Gaston, Lady Tremaine, and the Horned King.

This brand new adventure game is perfect for players looking for a campaign, role-playing game in box that is easily contained. You'll get to choose your class, work together, level up and specialize, and gain unique equipment and abilities as you work your way toward battling the evil Queen Dommiane.

Silk is a small pretty game that acts as a good introduction to area control and worker placement in which players attempt to maintain and manage their farm of silk worms.

This is a mid-weight euro game in which players are working to build St. Basil's Cathedral in Russia; however, only one player's team of builders can win the Tsar's favor.

This is a light-weight tile-laying game for two players in which you compete to place buildings as close to as many streetlights as you can in 19th century Paris.

We've got a couple new Star Wars Legion expansions in, including the Separatist Specialists and the Republic Specialists.

Learn what the rules are like on Mars in order to get the matching Keepers in Fluxx: Martian! Now in stock at Labyrinth.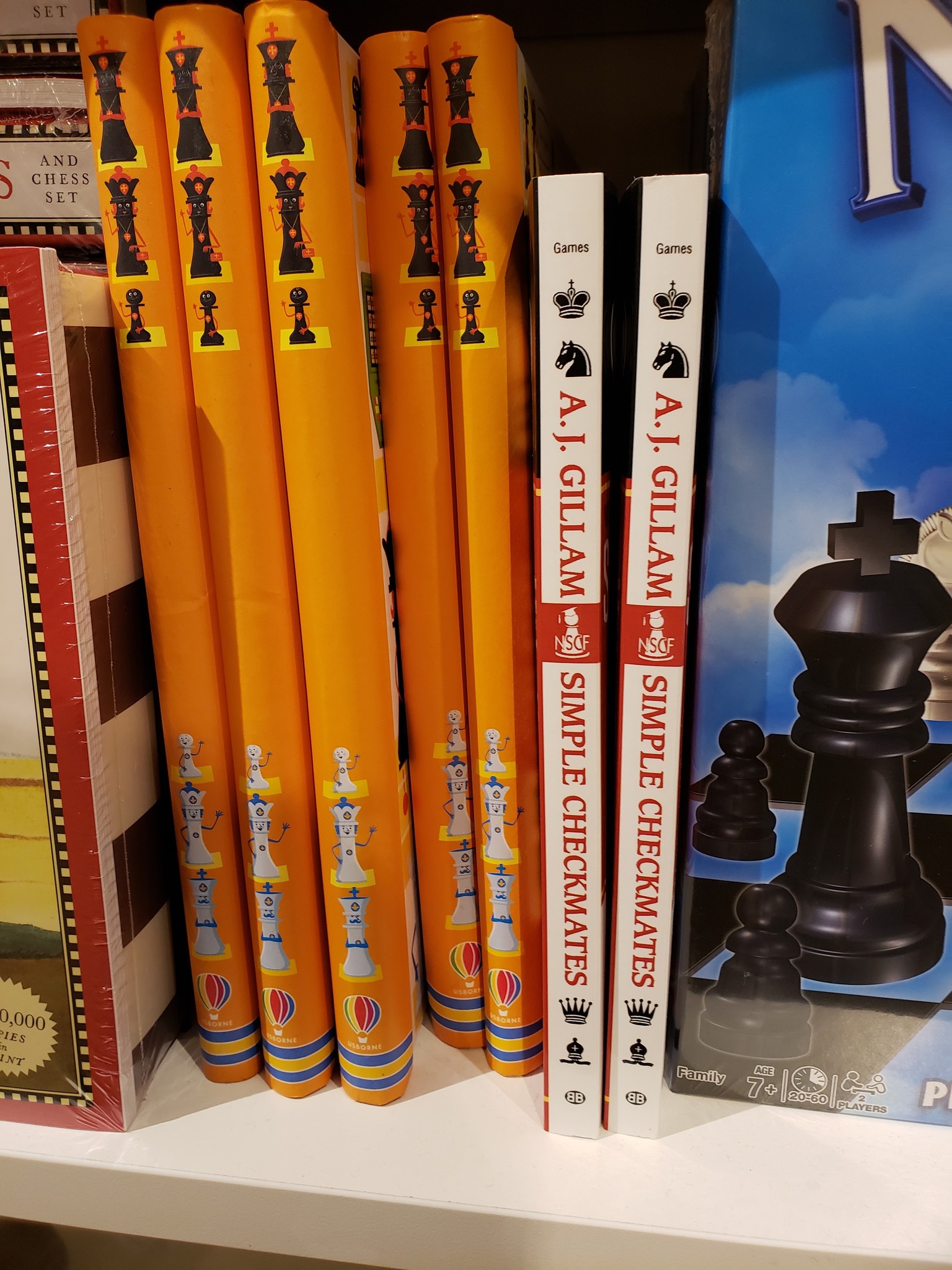 We received several new chess books, including another great one for kids, as well as a couple for adult players.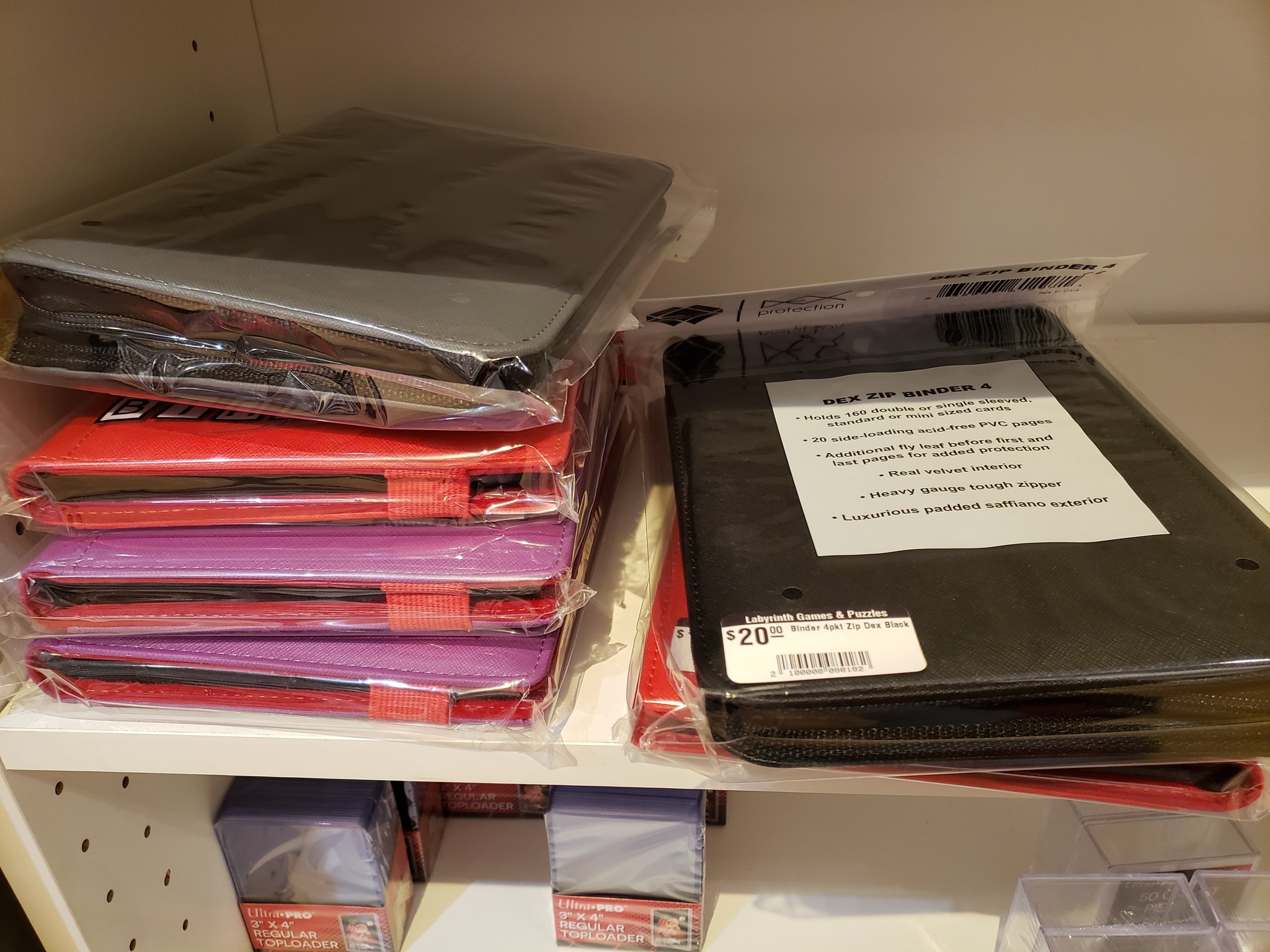 Check out these card binders we received!
Restock Alert: Terra Mystica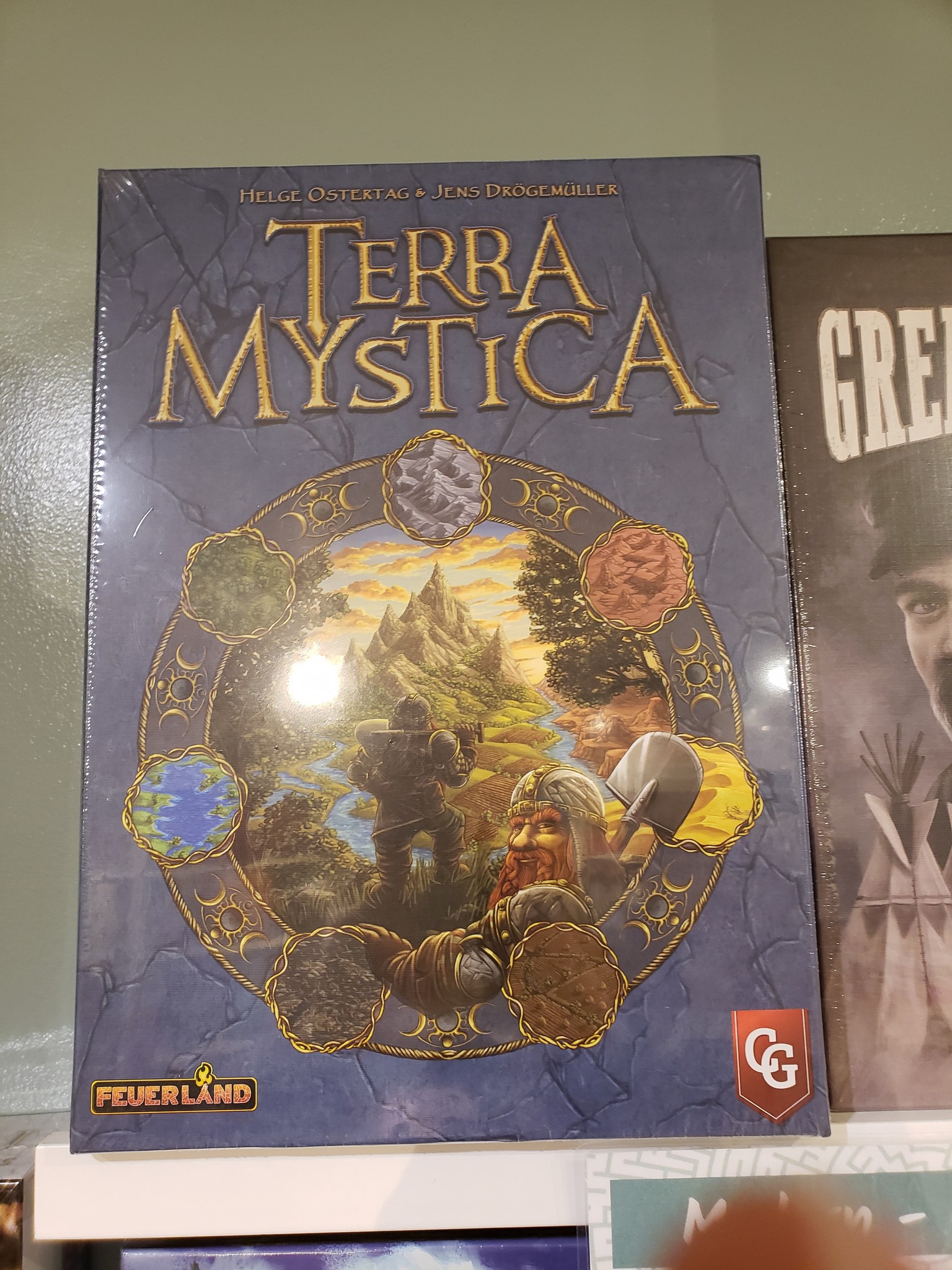 We recently received another copy of Terra Mystica; if you've been looking for a modern classic with a lot of complexity to offer, then check this one out.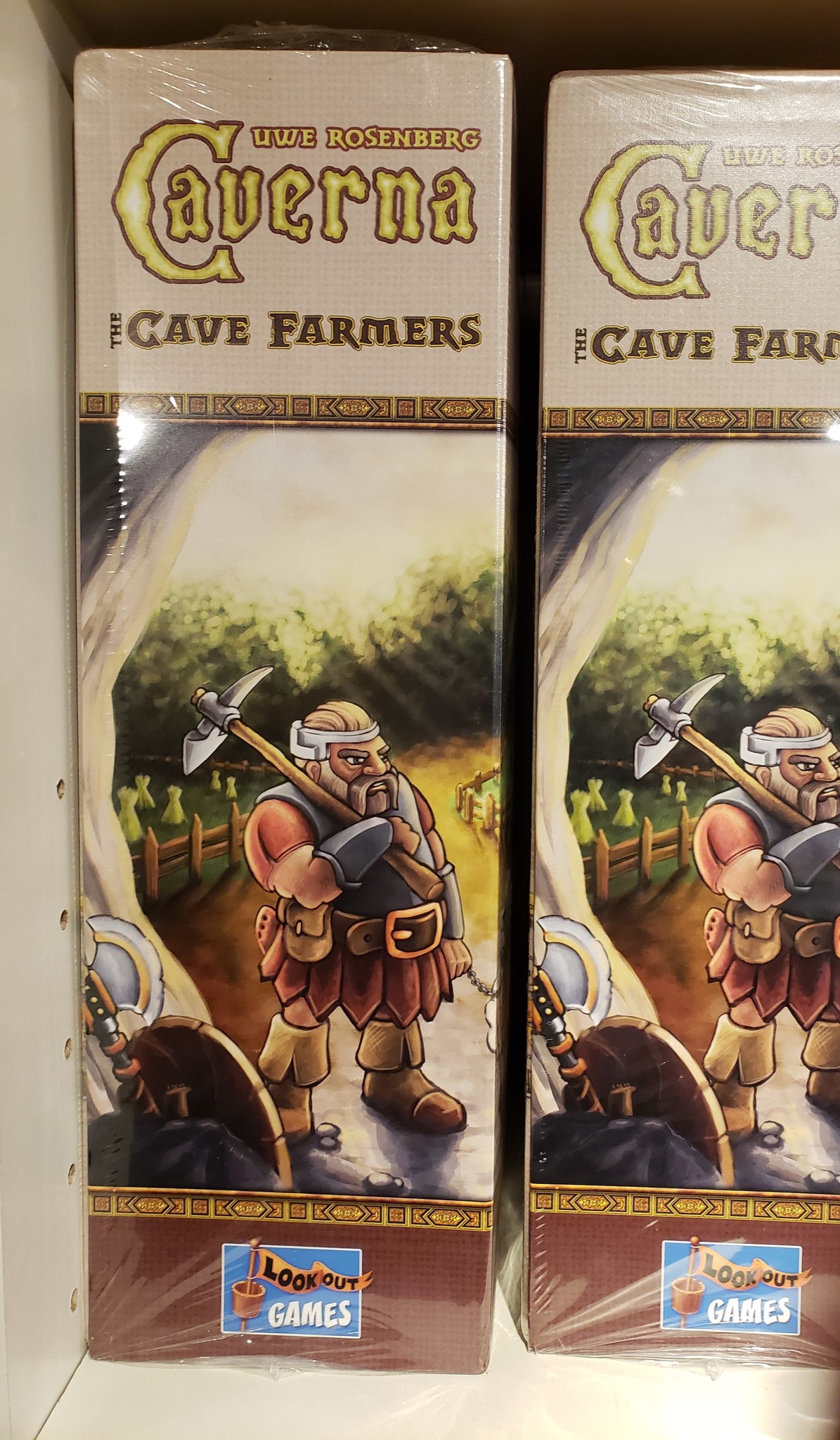 Another crunchy, modern classic, Caverna: Cave Farmers is a complex resource management game and another favorite from designer, Uwe Rosenberg. It is now in stock at Labyrinth.

We received a huge restock on our mystery puzzles. These great 1000 piece challenges contain a fun mystery to solve in each of them. Complete the puzzle to discover the clues you need!

The highly sought after Coatl is back in stock at Labyrinth!

Lost Ruins of Arnak is back and as full of adventure as ever.
Last but not least: check out our window display! We think it epitomizes DC in Springtime; what do you all think?