Such things, much wow.

This is a new, light-weight cooperative board game with unique elements of storytelling involved.
Aquatica: Cold Waters
The new expansion to Aquatica is here!

Check out this super cool book for transitioning from fantasy to scifi fantasy in 5e!

Check out this great set of fantastical monsters and creatures for one of the most popular tabletop games of all time!
Nightroot Maze

This cool mini dungeon crawl is compatible with multiple systems and was created by local author, creator, and Labyrinth Alum, Camilla Greer. This is an extremely limited run and the copies are numbered and signed by the author, so grab your copy quickly. Also, be sure to keep an eye out for her other indie projects like Where the Wheat Grows Tall on which she is collaborating with the main creator, Evlyn Moreau. She is also a main contributor to another indie product we sell, The Demon Collective Vol. 1.

We now have fancy, Avenger-themed playing cards!

This is a fun, push-your-luck game that continues within the world of Carnival of Monsters, another great game. In the game you roll dice to determine how many points you have to spend on taming monsters or capturing and caging monsters. Be sure to check it out on our webstore.

This is an interesting bidding game mixed with tile-laying. Players are vying for control of the pathway on the board in order to retrieve soul tokens from their color board by closing off pathways; however, they have to bid for the direction the pathway takes next. Check it out on our webstore.

The 2021 Magic the Gathering Challenger Decks are out and are looking super fun, especially for anyone trying to get into standard on a budget. See which one suits your playstyle by checking them out on our website!

The newest expansion to Stuffed Fables is here!

This is a very simple and cute set collection game for 1-4 players. For more details, look at the listing on our website.
These different sets of puzzles provide various challenges for the individual puzzler looking to try something new.

This is a game of hand management and tile-placement to a degree; however, in the game, players pay down a card in the city simultaneously, then pass their hand to the left, so it requires some planning ahead to avoid giving your opponents an easy play.

Food Chain Island is a great solitaire card game from Button Shy in which the solo player attempts to reduce a 16 card grid down to one card by having bigger animals eat smaller animals in the food chain. It is a great brain teaser game to carry around and use for a brain break from work.

This wallet game from Button Shy is an 18-card solitaire puzzle game that uses some pattern recognition as well.

This is an interesting wallet game from Button Shy in which 2-3 players are novice monks attempting to assist with clearing space in the graveyards by digging up current graves and retrieving skulls to arrange in a more economical crypt.

This is a super fun twist on the Connect 4 style sequencing game, except a bit trickier and a lot prettier! In this two-player game, players each sit on one side of the upright grid and take turns placing one of the available fairy tale character tiles in the grid. Each fairy tale character has a different ability or effect when they are played or when they are scored at the end of the game, and when three columns are full the game ends. We've really been enjoying this one here at the store!

The awesome new Dungeons & Dragons source book is here. This book contains several new one-shot adventures that all take place in or involve libraries in one form or another. This also happens to contain the first wheelchair accessible adventure, so it is an especially appreciated expansion to the most popular roleplaying game.
This is an adorable Reiner Knizia game!
This is a zany new party game in which you'll frantically try to deduce who is friend and who is foe.
This is a great mix of visual puzzler and strategy in which you'll try to score certain patterns by shifting and flipping stones; however, your opponents' might shift things out of your favor.

Help your chosen species become the most dominant in this crunchy, strategy game of action selection.
Check out this funky, new storytelling game from Cranio!
So many new miniatures came in recently!
Check out these two new X-Wing expansions!
Challenge yourself with these new, higher piece count puzzles!
This freshly stocked Q-Ba-Maze set comes with 44 cubes, 1 Marble Vortex, 8 Straight-Away Rails, 1 Turbo Launcher, 1 Finish Line Loop and 12 painted steel marbles.
Restock Alert: LEGO Architecture Tokyo
This gorgeous LEGO Architecture set when built depicts the beautiful, modern city of Tokyo. This is definitely a more challenging set, so it is recommended for experienced LEGO builders.

Arboretum is back in stock! The angry tree, card game is a beloved choice among several of our staffers.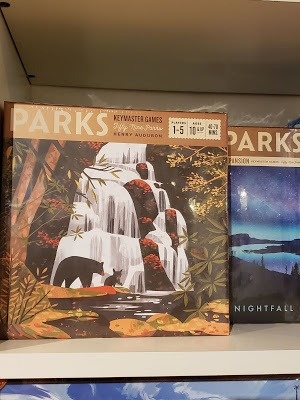 Parks is back in stock at Labyrinth! This is a gorgeous game that is all about celebrating our National Parks and all their natural beauty.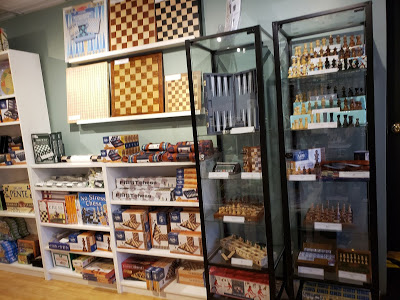 We got more chess sets in as well as backgammon sets. Check out these beautiful additions to our selection more closely on our webstore.